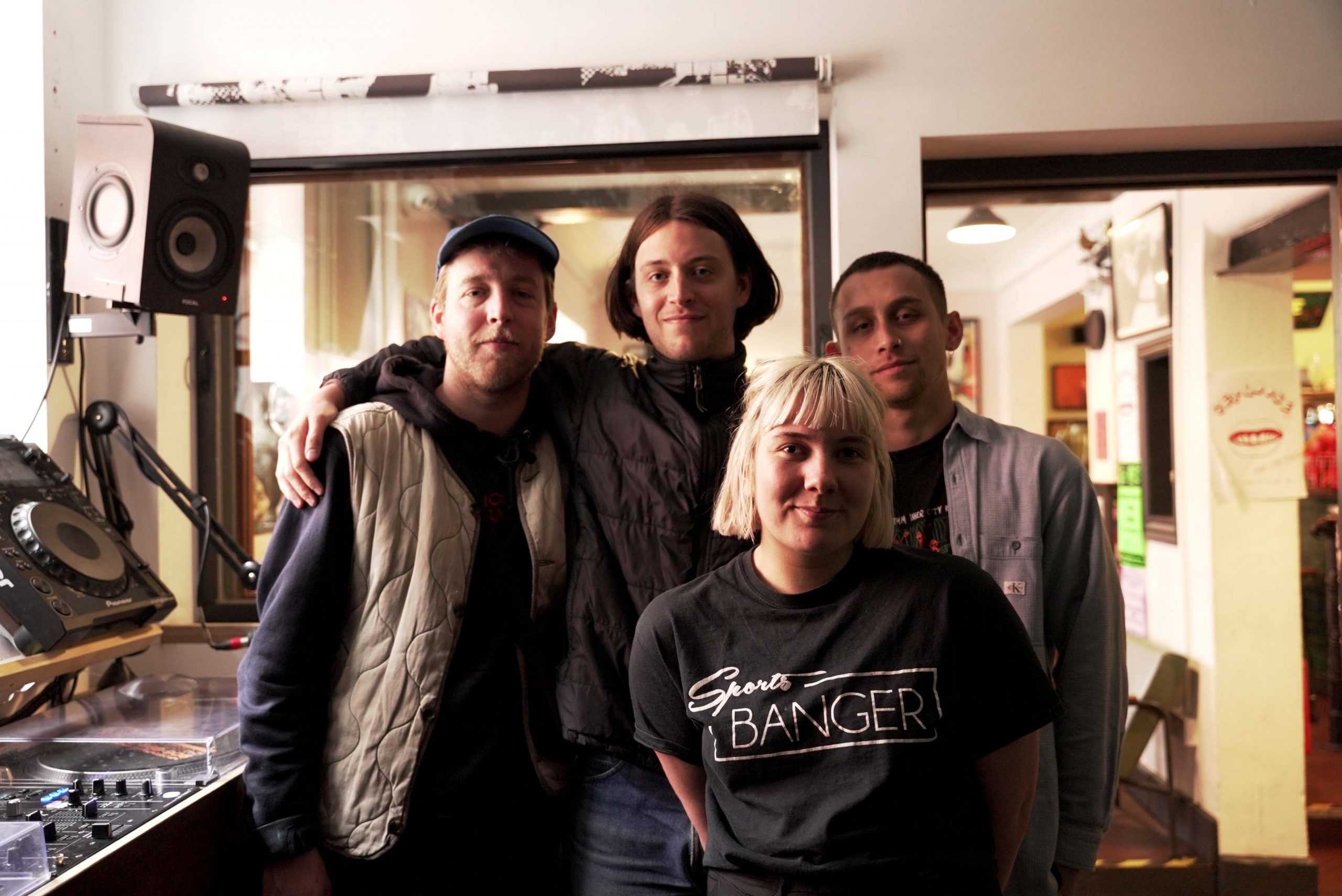 Local radio station launches second record label and social enterprise
Jack Machin and Leon Patrick were roommates in a large flatshare in Stokes Croft and quickly bonded over their shared love of music. Sunday nights were spent in the living room, enthusiastically playing tunes for each other and their housemates. In 2015 they decided to turn their hobby into a public platform – and the idea of ​​Noods Radio was born.
Since then, the local radio station has flourished. From a modest, makeshift studio in the Mickey Zoggs cafe in Stokes Croft, Noods now has some 280 resident artists from around the world. Noods has two record labels – Noods Radio Label and the more recently launched Dummy Hand, which will see its first release on April 15 – while their community interest company (CIC) Noods Levels aims to help young people break into the music industry.
Down the road from the station, co-founders Jack and Leon, along with COO Izzy Cross, sit down in Portland Square to tell me about their journey so far and what their hopes are for the future. .
Humble beginnings
"When we started, we didn't even have a deck!" said Patrick, recalling the beginnings of Noods Radio. "We just had Jack's huge computer, which we plugged into my laptop and played music like that."
"Then when other people came on board, we just ran around with a laptop and plugged it into whatever equipment they had," Jack adds with a laugh. A tattoo reading "Noods" adorns his right leg.
Jack and Leon were starting to know nothing, in the days before streaming platforms like YouTube existed.
After being without a studio for a year, Noods finally took up residence in the attic of the now closed Surrey Vaults pub, which was run by friends of theirs. The venue proved a big boost, allowing them to connect with the bands and musicians who had come to play gigs, and the wider community around the pub.
When the pub closed, Jack and Leon led a nomadic existence. Noods found a home in Crofters Rights for a time before the room was turned into a toilet, then spent the next few months moving between different dingy rooms in Hamilton House. In the end, the team landed where they started, buying the old Surrey Vaults with a friend and renaming it Mickey Zoggs.
Community spirit
Initially, the duo created Noods Radio as a way to unify the disparate elements of Bristol's music scene under one roof and showcase emerging talent. But as the station has grown, so has its social purpose. Noods Levels was created last year as a CIC with the aim of creating jobs and opportunities for young people in the music industry, equipping them with the skills and networks they need to succeed and overcome barriers to access.
Unpaid internships are a major barrier, says Leon: "So a lot of it is creating paid jobs, both within the station and beyond, where they can learn on the job and build their CVs. »
"It's often said that it's not what you know that counts, it's who you know," says Izzy. "But instead of seeing that as a negative, we want to turn it around and create communities and networks that people wouldn't otherwise have access to."
"It's about showing people that there are opportunities here in Bristol, and stopping the idea that you have to go to London to succeed," she continues.
Izzy herself came through Noods as a volunteer: "So now I ask – how can we make it easier for the next generation?"
She currently runs CrossTalk, an event that offers advice and guidance to creatives through workshops, designed in partnership with Access Creative College and partly funded by Bristol City Council's Cultural Investment Scheme. She hopes it will provide direct access to industry professionals for young creatives and help them on the path to sustainable career progression.
It's an aspiration highlighted by a March government report, which highlights the social benefits of community radio, including training and volunteering opportunities as well as cohesion and advocacy for community action.
Calling all the 'luvers'
Noods went from underground and online only to Ofcom recorded on DAB digital radio, so everyone could tune in. But the challenge now is to make the station financially viable. The station has a few sources of funding in the city, but it doesn't want to rely on them – giving the example of Berlin's community radio, which collapsed in 2019 after funding ran out. Instead, they try to ensure that the basics are funded through subscriptions and crowdfunding.
When the pandemic hit, the team launched "Noods Luvers", a crowdfunding effort to keep the station running. The entire Noods community, residents and public, came together and raised funds. Ultimately, Noods has emerged stronger than ever, and its place as a hub for local DJ talent is set to continue and grow.