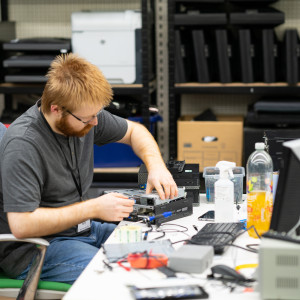 Link Group donates 80 laptops and tablets to Edinburgh social enterprise
Link Group has donated 80 used laptops and tablets to award-winning environmental social enterprise The Edinburgh Remakery.
All devices had previously been used in Link's device loaner program or other digital inclusion projects.
Andy Jack, Head of Sustainability at Link, said: "We are delighted to be helping The Edinburgh Remakery take a step towards improving sustainability by supplying devices previously used by Link staff.
"The Edinburgh Remakery will refurbish laptops and tablets so they can continue to be used by customers, which not only helps the environment, but helps keep everyone connected."
Elaine Brown, CEO of The Edinburgh Remakery, added: "We are very grateful to Link for their generous donation of 80 devices. We are delighted to see more businesses across Scotland introducing sustainable practices to reduce their impact on the environment, and Link is leading by example by using our free technology disposal service for businesses and donating of their old electronics to be refurbished and responsibly recycled rather than thrown away. and wasted.
Graeme Bruce, Head of Sustainability and Asset Management at Link, added: "Link is committed to achieving net zero carbon emissions by 2030. We also support the circular economy to reduce the discharge and dependence on rare earth metals. This donation is part of our sustainability strategy, which aims to help us meet our environmental obligations and play our part in the ongoing climate emergency.