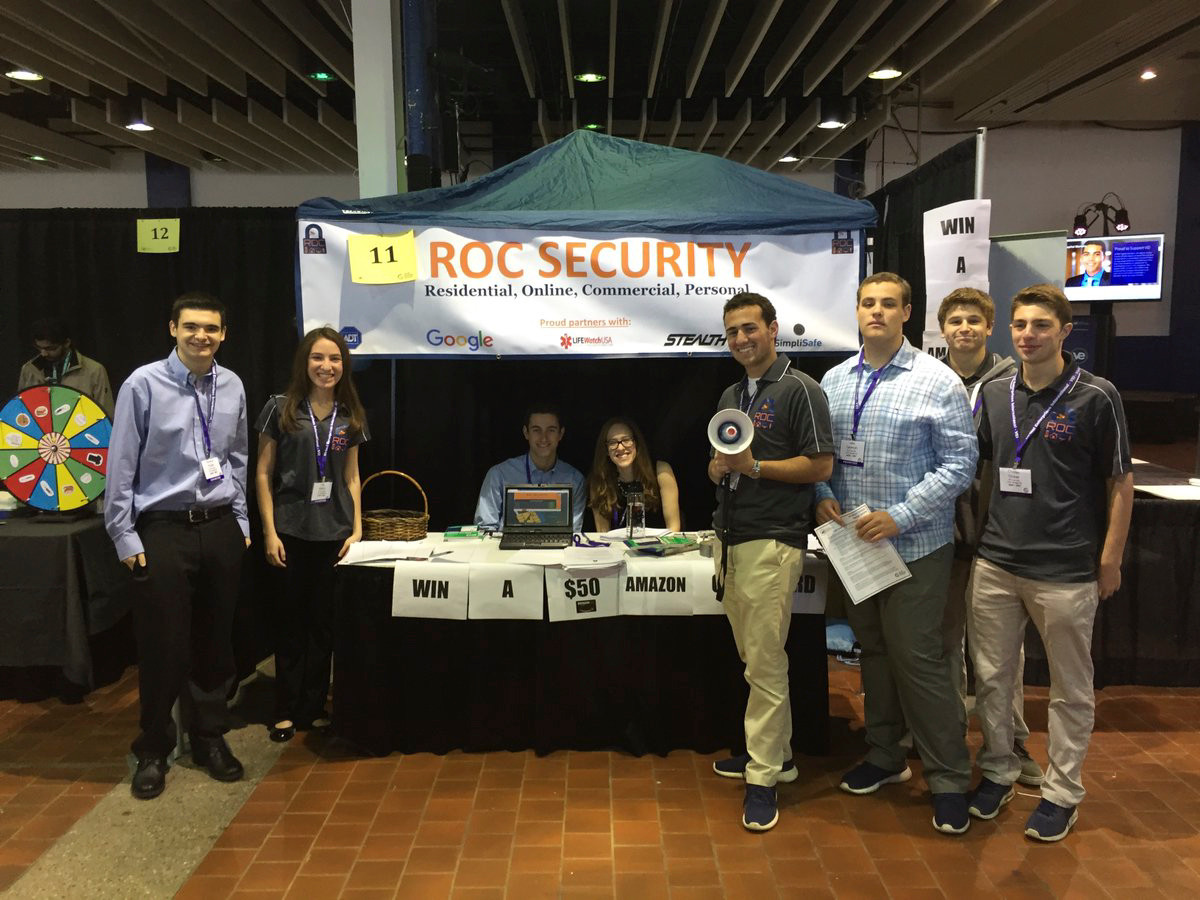 Hewlett High's Virtual Enterprise Team Finishes Fifth | Herald Community Newspapers
ROC Security, a senior-run virtual enterprise company from Hewlett High School that "sells" residential, online, business and personal security products, took fifth place at the Virtual Enterprise International Youth Business Summit 2017 in Manhattan from April 3 to 5. High school students from over 40 countries attended the summit as well as Long Island, the state and the United States
Through Hewlett High's Virtual Business Program, students create and run a business. They learn about human resources, accounting, technology, sales and marketing. The virtual business class meets daily during the school week for two periods.
The business plan presentation team: Shana Bernstein, Elliot Breslav, Alex May, Harrison Poutre, Jonathan Samuni and Jake Zeidman entered the national business plan competition on April 3.
"It was a great team effort from everyone in the class as everyone in the class helped create the presentation," said Ron Remick, business teacher at Hewlett High School.
Lori Matza, Max Kelstein and Sulaiman Hameed also participated in the Global Business Plan Challenge on April 5. They were placed in different teams with international students to present a case study aimed at solving a problem for Chobani, an American brand of yogurt.
ROC Security, made up of 12 students from Hewlett High, participated in the international trade fair bringing together more than 200 companies from around the world on April 5. "The students enjoyed selling the ROC Security packages and meeting students from different companies," Remick said.
According to ROC Security's mission statement, the company strives "to provide quality protection and security to our customers, whether at home, at work, online or with our personal security products. ". ROC Security partners with real-world industry leaders including Lifewatch USA, Google, ADT, Stealth Technology and Simplisafe.
At the Long Island Trade Show in Farmingdale in January, the team won first place for best TV commercial and best selling company, second place for best business card, third place for best sales pitch. and the most enthusiastic company.
Another student honor
Hewlett High School junior Leo Khazan was named a semi-finalist of the US Presidential Fellowship Program based on his SAT and ACT scores, and a nomination by science professor Terrence Bissoondial as part of the Junior Science and Humanities Symposia.
Bissoondial said Khazan was the first Hewlett student to earn the honor. About 800 candidates are named semi-finalists. The Commission on Presidential Scholars then selects 161 scholars who are honored at the National Recognition Program in Washington, DC in June.