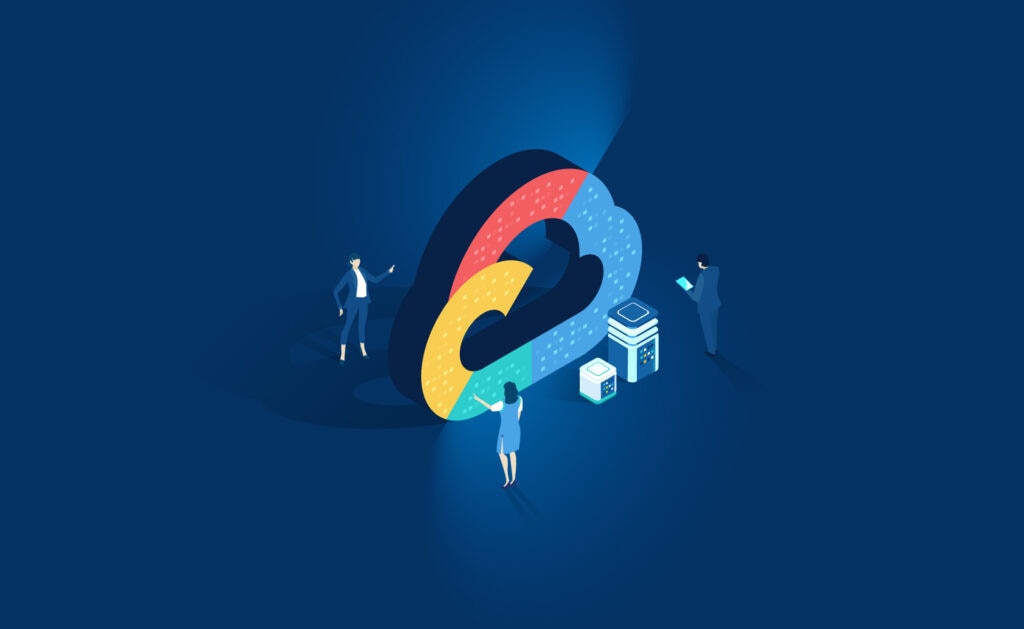 Google Cloud highlights BBVA's transformation into a digital company
It is according to a study published by Googlewhich analyzes the success of using its Cloud products in banking, which it describes as having "transformed into a digital business which calls into question the "status quo" of the financial sector". Google is considered by BBVA to be "an ally", as defined by Ivan Gomez, Senior Manager of Supplier Strategy at BBVA. "We work with the mentality of developing an end product and creating common roadmaps," he adds.
The financial institution saw in the cloud an opportunity to acquire the necessary agility to anticipate the needs of its customers, while reducing its carbon footprint in order to become an environmentally friendly company, all driven by innovation . "Our relationship with Google Cloud helps us focus on the most important elements of a transformation: putting our customers at the center of the business, using the best tools available, and leading our employees on this path as well," explains Juan Calatravahead of IT strategy, deployment and regulation at BBVA.
It is a collaboration that began in 2012 with an intense journey towards cloud migration and allowed us to deepen our knowledge in areas such as artificial intelligence and machine learning. On the strength of this new learning, the bank is now focusing its efforts on create applications that help improve the financial health of its customers. Thus, Google products such as BigQuery help BBVA analyze large amounts of data to measure the real impact of the pandemic on consumer behavior. Or Cloud SQLa service that allows BBVA to give project managers and solution architects a way to create resources in a secure, controlled and flexible way to easily scale resources.
Fight against cybercrime
A year ago, BBVA became the first European bank to use Chronicle, Google Cloud's cybersecurity analytics platform. Targeted by cybercriminals, the bank needed a cloud-native security platform that could support its global business. The bank's strategy with Chronicle is to make it the main engine to better detect threats, classify and prioritize events according to their impact or criticality, and be able to react more quickly. It's a mutually beneficial relationship in which BBVA benefits from the experience of Google engineers, while the technology company gains valuable feedback from a bank with experience in cybersecurity.
In addition to better protecting against increasingly sophisticated cybersecurity threats, BBVA is enhancing the employee experience with productivity tools that create a better work environment. In particular, Google Workspace was indispensable at the start of the pandemic when Google Meet usage skyrocketed 1,800% and allowed workers to stay connected remotely.
From digital banking to digital business
In terms of developing digital channels, BBVA relies on Google software engineering to deliver products to customers faster. The bank manages to develop new services in just nine months compared to the industry average of two years. Google Cloud provides BBVA with the core capabilities to achieve its strategic objectives, while sending a powerful message to the market on how to meet the needs of 21st century banking services.
","location":"bottom","categoria_onetrust":"C0002″},{"script":"Google Tag Manager – 1/2″,"codigo":"rnrnrn","location":"head","categoria_onetrust":"C0002″},{"script":"Google Tag Manager – 2/2″,"codigo":"rnrn","location":"body","categoria_onetrust":"C0002″},{"script":"AddThis","codigo":"rnrn rn ","location" :"bottom","categoria_onetrust":"C0004″},{"script":"pixelES","codigo":"","location":"head","categoria_onetrust":"C0004″},{"script ":"pixelCO","codigo":"rnrnrnrnrnrnrnrnrnrnrnrnrn rn rn","location":"head","categoria_onetrust":"C0004″},{"script":"pixelPE","codigo":" rn rnrnrnrnrnrnrnrnrnrn rn rnrn","location":"head","categoria_onetrust":"C0004″},{"script":"pixelAR","codigo":"rnrnrnrnrnrnrnrnrnrn rn ","location":"head","categoria_onetrust":"C0004″},{"script":"pixelMX","codigo":"","location":"head" ,"categoria_onetrust":"C0004″},{"script":"pixelFacebookGlobal","codigo":"rnrnrnrn","location":"head","categoria_onetrust":"C0004″}]; /* ]]> */