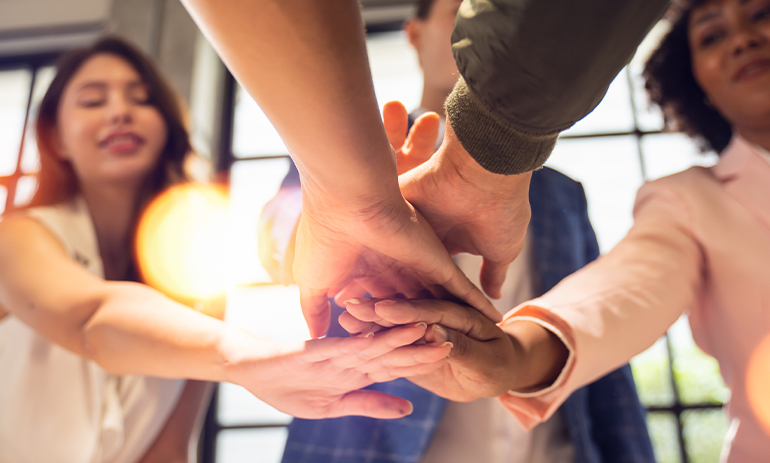 Forecast for 2022: Social enterprise
While the lingering uncertainty we all face can make it difficult to predict what's to come, Belinda Morrissey, CEO of the English Family Foundation and Chair of the Social Enterprise National Strategy Advisory Council, shares her wish list for the social enterprise sector this year.
With the current turmoil across the globe and the daily uncertainty we all face as we approach 2022, the opportunity to forecast this year is like asking how long a piece of string lasts. . But if the past two years of upheaval, heartbreak and financial hardship from COVID-19, natural disasters, climate devastation (do I really need to go on?) have taught me anything, it's the incredible persistence and resilience of the social enterprise sector, both in Australia and globally.
Despite the difficult road through the pandemic, we have seen the sector continue to deliver health, employment and wellbeing outcomes to Australia's most deprived and marginalized communities. We have also seen the Australian social enterprise sector take the collective responsibility for its own progress. This includes initiatives such as the National Strategy and the growth of state networks and collaborations between companies working to solve the same problem. Now, in 2022, we feel like we've reached a tipping point, and we need to take advantage of this moment and seize the opportunities. So what do I predict (or wish) that will grow in the social enterprise sector in 2022?
Prediction: increased focus on ecosystems
One prediction is that this year will trigger widespread, cross-industry standardization in the use of ecosystem analytics. We should see greater consideration of the concept that social issues require collaboration across all areas of the impact economy – social enterprises, charities, government, business, philanthropy, academia – everyone.
the National Social Enterprise Strategy the initiative mentioned above will be one of the forces behind this acceleration of ecosystem thinking. Through deep industry engagement, this project galvanizes the industry around a shared vision and strategy, bringing cohesion and connectivity to this diverse sector. It also aims to influence government policy and increase the likelihood of establishing a long-term strategic partnership with the federal government.
Data and technology will be key to this focus on ecosystems. The digital transformation of our daily lives and the proliferation of AI-powered systems, to name a few trends, are changing both consumer and business behavior. If we can democratize access to data, we can ensure that the benefits of these new technologies are spread more inclusively across Australia. Technology platform advances as social enterprise ecosystem mapping tool Wicked Lab improve the sector's understanding of its broader ecosystem and the levers and actions needed to amplify social impact.
Prediction: Increased awareness of what social enterprises can offer Australia
For the sector to achieve its vision and ambitions, we need to think big this year and campaign to raise awareness of this national asset – and the economic and social value this sector brings to our communities (Studies show that nearly one in three social enterprises in Australia are set up to create meaningful employment for disadvantaged people). We need to tap into the growing sense of conscious consumption and 2022 will be the year to do that.
The Social Enterprise Global Forum (SEWF) 2022 in Brisbane will be an exceptional opportunity to raise the profile of social enterprise, particularly with key influencers in government, business and philanthropy. September sees SEWF back on Australian shores, with White box companies as an Australian host. This landmark event is a huge win for the industry and is much more than a typical forum. The objective of SEWF is to grow the global social enterprise movement to accelerate our transition to a new global impact economy. In Australia, the year-long activation period leading up to September offers an exciting opportunity to spotlight and legitimize the sector, especially for our First Nations founders for whom doing business for good is common practice. Source your tickets here.
Wish: Stronger policy development at all levels of government
2022 must also be the year we strengthen policymaking, which can be tricky in an election year. So let's take advantage of the ethical consciousness that has grown across the country during the pandemic and use it to build a fairer Australia for all. Jurisdictions around the world have shown us the acceleration possible in the social enterprise sector when supported by enabling policy, and we see this demonstrated here in the acceleration of the sector under the targeted strategies of Victorian government social enterprise. the European Commission Social Economy Action Plan, published in December 2021, noted: "To realize its full potential, it is important to increase the visibility of the social economy and create an environment that allows the social economy to thrive and grow. I couldn't agree more.
While enabling government initiatives, such as those that directly encourage social purchasing or provide pay-for-performance strategies or grants to support refugee employment, are not the only piece of the puzzle, they are essential and send strong signals in favor of the normalization of behavior. We need the federal government to work with the sector to activate well-developed opportunities, such as the recommendations of the Social Impact Investing Task Force. We also need all state governments to follow the lead of the state governments of Victoria and, increasingly, the states of Queensland. At the local level, councils can encourage social enterprises within their communities through social procurement policies and support grant schemes.
My challenge to all of you this year is to actively consider where you can accelerate awareness of this vital sector through the work you do. Will you commit to adding your voice to the National Strategy sector commitments? Will you be attending SEWF '22? How can we all, together, build an Australia where everyone and every community can thrive, contribute and create?
See also
Forecast for 2022: impact investing
Predictions for 2022: charities