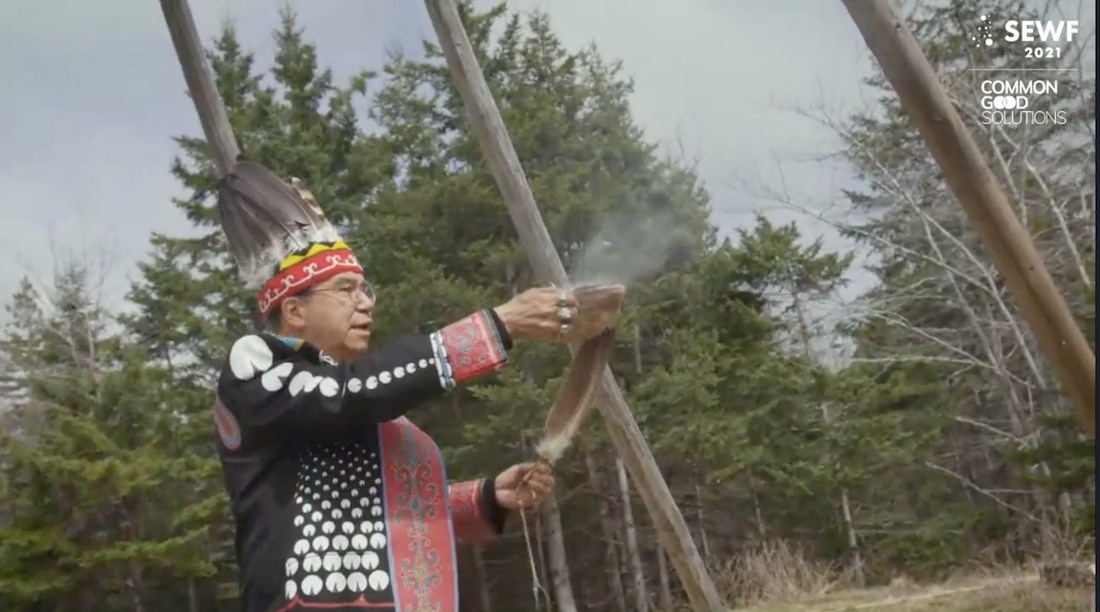 First Global Hybrid Social Enterprise Forum Opens in Nova Scotia, Canada | The social enterprise magazine
[ad_1]
About 3,000 people from 87 countries and territories are expected to join the 2021 Global Social Enterprise Forum (SEWF), which opened this morning in Nova Scotia, Canada. This year's event is a hybrid arrangement – with both online broadcasts and face-to-face meetings.
The opening ceremony began with a recognition of the land and prayers from Stephen Augustine, hereditary chief of the Grand Mi'kmaq Council of Canada (top photo).
Most of this year's SEWF delegates go online, but there are also community centers around the world – including Pakistan, Turkey, Australia, and Liberia – that bring people together in local places where they can have fun. conversations focused on their own region.
Read our interview with Garth Johnson of Auticon, who will speak at SEWF 2021 on social enterprises exploring new markets
Speakers during the two-day event include Harish Hande from the Selco Foundation of India, Paula Woodman, Global Head of Impact Economics from the British Council, Carolien de Bruin from the World Economic Forum, Sean Barnes from 'Akina in New Zealand, Erinch Sahan from the UK Donut Economics Action Lab and Mairi McAllan, member of the Scottish government.
This main forum event follows on from the 2021 Youth Forum and Policy Forum, which took place in April. Still to come this year is a rural forum and an academic forum.
Accessibility and diversity
Welcoming the delegates, event MC Joseph Huyer of the Canadian event host Common Good Solutions said he was looking forward to "a few busy days with industry-designed content for people in the sector ".
Helene Malandain (photo), President of SEWF, said the digital format allows for more accessibility and diversity. She added that 30% of speakers and delegates were under 30 and 60% identified as female, non-binary or trans.
SEWF represents the "solidarity and humility of our movement," she said.
Explore highlights of Global Social Enterprise Forum events over the years in our SEWF Collection
SEWF board member David LePage added that this year's SEWF will "build a stronger and more connected network of social enterprises" across the world.
Pioneers Post is the media partner of this year's Social Enterprise World Forum. Follow # SEWF2021 online to find out more.
[ad_2]