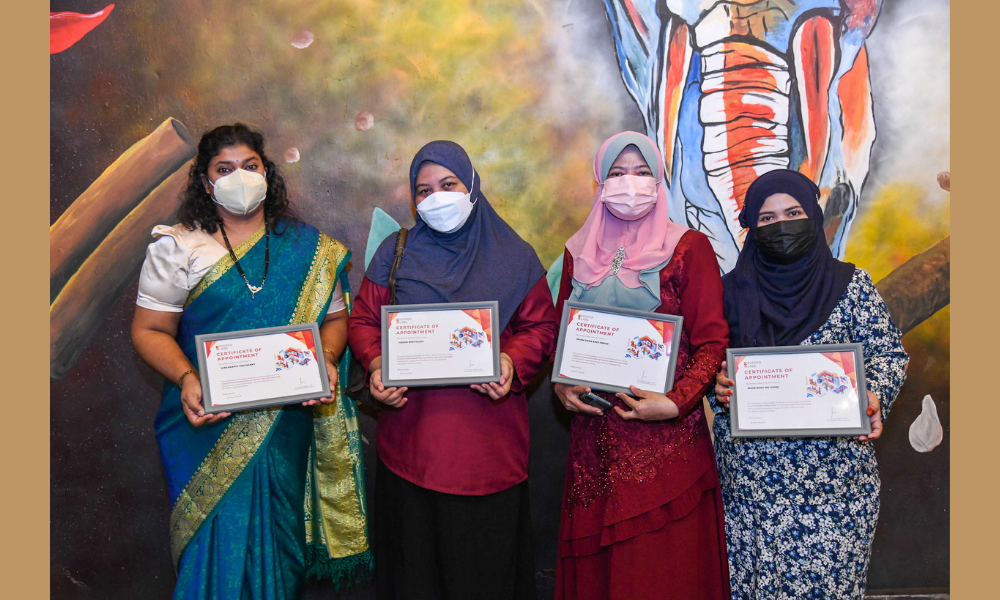 Datuk Seri Saravanan Launches Masala Wheels Social Enterprise Initiative, Empowering B40 Community to Create Jobs
Masala Wheels, an accredited social enterprise that has been empowering marginalized communities since 2015, is expanding its range of capacity building programs for future local changemakers with a digitally driven economy. Distinctive for its focus on developing grassroots capabilities, Masala Wheels is a social enterprise founded to nurture and empower marginalized communities through capacity building and employment opportunities in the restaurant industry, with a particular focus on the poverty reduction through economic models.
Recently, Masala Wheels, which has won more than 20 awards both locally and internationally, successfully launched three cloud kitchen models, namely restaurant, shopping mall and home cloud kitchens. They have identified deserving individuals, including home-based beneficiaries to operate the models, who will eventually be independent contractors themselves. This project aims to empower and provide income-generating opportunities to deserving people in the B40 community, including single mothers and people who have lost their jobs during the pandemic.
Alongside the celebration of 7 years of social entrepreneurship of Masala Wheels in Malaysia, they launched the cloud kitchen initiative in partnership with MRanti on February 20, 2022 with great pomp and grandeur. The event was honored and officiated by Datuk Seri M. Saravanan, Minister of Human Resources alongside Dato' Shahira Ahmed Bazari, Managing Director of Yayasan Hasanah. The launch saw the full transfer of ownership of the Masala Wheels restaurant by Pepper Labs, the parent company to a group of beneficiaries and a fake key handover from Edmund, Head of Retail and Mall Management, DC Mall under Guocoland Malaysia in Kalidass, with the grantee leading the cloud kitchen initiative at Damansara City Mall.
Apart from this, 15 people received their certificate of appointment from Datuk Seri M. Saravanan to start operations of their cloud kitchens with a minimum commitment of RM 1,400 as fixed monthly income. This would be made possible through the business mentorship and growth hacking of Masala Wheels. The cloud kitchen initiative, one of the first social models in Malaysia, will empower 15 people from the B40 community while pledging to provide 20,000 meals as a seed fund for entrepreneurs. Meals would be distributed to validated beneficiaries of 180 households reaching 900 people with cost savings of RM160,000 for these households.
PN. Masri Harun (38) of PPR Kerinchi also said she and her husband ran a food stall before MCO and their stall had to be vacated to make way for road construction. Since MCO, they have no income, her husband's vision has become blurred and his health has deteriorated due to diabetes and hypertension. She has 4 children and 3 of them are school children. PN. Masri credited the Masala Wheels Cloud Kitchen initiative because it not only gives him the opportunity to take care of his 3-year-old child and her husband, but also helps him with his monthly commitments.
Masala Wheels holds Social Enterprise Accreditation (SE.A) Plus status from the National Certification Program of the Ministry of Entrepreneurs Development and Cooperation which recognizes legitimate social enterprises. The certification reflects its social impact, only through the allocation of resources and operational and financial sustainability, in addition to allowing tax exemptions for donations. Recently, Masala Wheels won the announced 2021 ASEAN Business Awards in Brunei Darussalam, making Malaysia proud of its inclusive business approach.
---
This content is provided by Pepper Labs Sdn Bhd
Interested in having your listings on Malaysiakini? Contact the announcements team at [email protected] or whatsapp on +60 17-323 0707 for urgent matters.