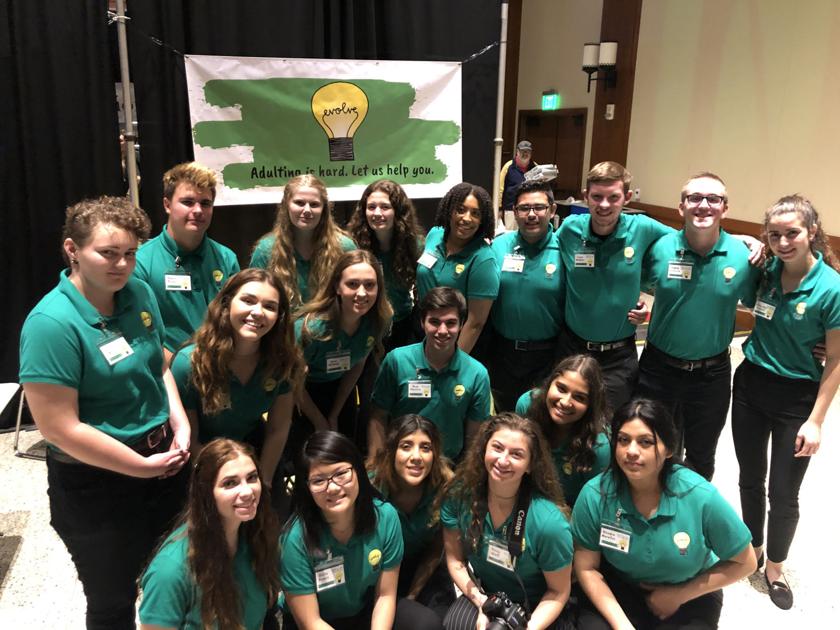 Centennial's Virtual Enterprise Team Continues to Operate Remotely, Via Zoom | New
Spring is usually the busiest time of the year for students: athletic competitions go on without interruption, end-of-year homework begins to loom, and celebrations of all kinds take place to cap off another successful year. .
Things are a little different these days, however. Most, if not all, of the events and activities that students most expect have been canceled due to the coronavirus.
But as they say, every cloud has a silver lining, and the virtual enterprise students at Centennial High School seem to have found theirs.
Evolve is the business Centennial students envisioned last summer for their one-year school business project. The app helps students grow into successful adults in three categories: cooking, tailoring and personal finance, explained CEO Mia Polston, a senior at the school.
"For cooking, we have videos and recipes," she explained. The team partnered with Valley Strong Credit Union, who provided worksheets for students using the app to track their spending. Videos and tutorials are also available for sewing.
Throughout the school year, students worked on various business aspects, such as marketing and finance, to get their business started, and their efforts were demonstrated. Team Evolve's business plan has won numerous awards and was a finalist in the National Business Plan Competition in New York City.
Then came the coronavirus epidemic. News that schools would be closed for the rest of the year followed, and the competition scheduled for April 21-23 was canceled.
"We have a history of competition and success… they have to work hard to get there, and that's what's so disappointing for this team," said teacher Jacilyn Elliott. "They worked really hard all year and put in the time, effort, they got it and hit their goal of qualifying for the national championships."
Rather than completely abandoning their idea, the students switched to working from home. Every Monday morning, the team's board members meet virtually via Zoom to discuss what they did last week and their goals for the week ahead.
"It's good to keep some kind of normalcy in our lives," Polston said.
Last Monday, the board of directors, made up of Aanesty Mellor, Olivia Dennis, Grace Smith, Polston and Elliott, began their conversation about what's been on everyone's mind lately: What a show everyone world getting ready these days?
After a slew of responses ranging from "Glee", "The White Queen" and "Game of Thrones", business returned to normal for the team. Smith, who oversees finance, said his teammates were preparing invoices and working on a manual, while Dennis said his sales team researched kitchen and food safety products.
The coronavirus has also found another way to impact the business. Dennis explained that it has been difficult for sales "because people aren't running their business right now… we're not going to put money into the business." Rather than giving up, Elliott encouraged the team to troubleshoot and scour social media to see which virtual businesses are still working to secure sales.
Choosing to continue the home-based business hasn't always been easy, but the team decided it would be best to bring it to fruition.
"At first it was really hard to want to keep going because we saw everything get canceled and what we were working for and what we wanted to go towards all of a sudden disappeared," said Polston. "But we sat down on a Monday and decided that we want to continue running this business and we want to prove that it can be successful even if we don't compete and go to the judges."
"It's the most gratifying thing for us to know that even during this crisis, Evolve could and would be successful if we were to compete because I think this app that we have created is super beneficial, especially right now." , she added.
The GMs also hope their unprecedented journey will inspire future teams to work hard and qualify for the national championships.
Ema Sasic can be reached at 661-395-7392. Follow her on Twitter: @ema_sasic.