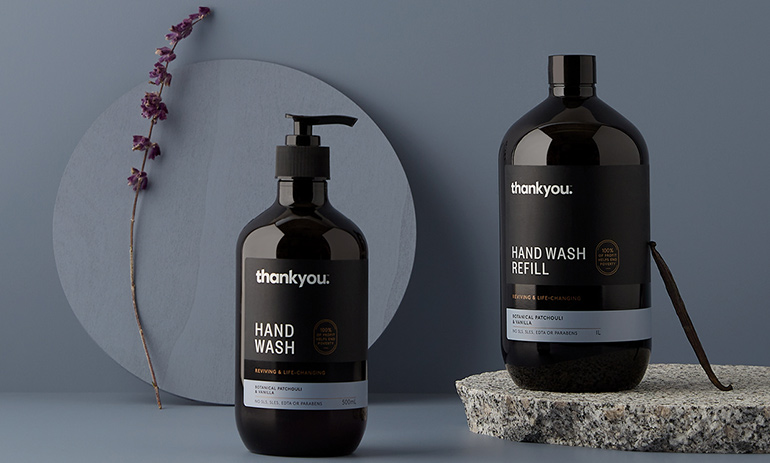 "Better before bigger": How Thankyou is changing the social enterprise game
In the 14 years since Thankyou debuted, it has grown, changed shape, learned great lessons, and even nearly closed its doors. Now he is looking towards a new challenge; disrupt the way we give, writes Maggie Coggan in this month's Spotlight on Social Enterprise.
While there were many moments that led to Thankyou becoming the company it is today, for company co-founder Daniel Flynn it was the realization that his life could very easily have been different had he not been born in Australia.
"At the age of 19, I was in college and interested in getting into commercial and real estate development," Flynn told Pro Bono News.
"But I remember watching all these videos of children who don't have access to clean water. And even though I already knew it was happening all over the world, it was the individual stories that were really compelling.
"I had this moment of what if it was me?"
Flipping a $50 billion industry on its head
With an estimated 800 million people unable to access clean water, having an industry that made $50 billion in profits selling bottled water didn't sit well with Flynn and his co-founder (then girlfriend , now wife) Justine Flynn.
"It was really just sitting down and saying, 'What if there was a brand that bridges the gap between the $63 trillion we spend each year as consumers and the nearly 800 million people who don't 'have no access to clean water and are living in poverty'?" he said.
Thankyou started by selling water to help fund water projects, but the intention was never to be limited to just one product.
Today, the company makes 55 products, including food, soap, hand sanitizer and diapers.
All proceeds are directed to a charitable trust managed by Thankyou. The money is then distributed to charitable partners.
Flynn said Thankyou's role has always been to fund development, not do it himself.
"The complexity of the development space is incredible. There are also a lot of people who are already doing good work, so our mission has always been to fundraise for the work already underway," he said.
Since 2008, the company has raised $17 million for its impact partners.
But over the years, the way the company distributed that funding changed dramatically.
"We used to think we would fund water and food projects because it's a really great consumer story," Flynn said.
"But in reality, solving global poverty is complex and requires a myriad of solutions."
In its latest round of funding, Thankyou will distribute funds among 18 grassroots organizations working in everything from water, sanitation and hygiene to maternal and mental health.
In addition to changing the funded projects, the brand has also changed the products it stocks.
play the big game
Although Thankyou initially struggled to break into the mainstream market, growing interest in social enterprise among consumers meant it didn't stay that way for long.
In 2013, thousands of people successfully petitioned Coles and Woolworths to stock Thankyou products on their shelves, making its food and water widely available to Australians across the country.
But entering the mainstream market has not been without challenges.
In 2017, Thankyou launched its own diapers and achieved 10% market share, which from an industry perspective was unprecedented.
"Diapers is a category where it's really hard to move a consumer, but we were able to reach a level in the market that certainly sent a message to everyone that Thankyou had a lot of potential," Flynn said.
"But when the big brands started to realize that we might actually be a threat, they immediately cut stock. It turned into a price war that nearly killed Thankyou.
Flynn said it was this near-death experience that actually forced the company to rethink everything it did, from how it gave to how it operated.
In 2020, the company announced that it would stop selling its flagship bottled water in an effort to reduce its environmental footprint.
Flynn told Pro Bono News in 2020 that while bottled water was its "genesis product", Thankyou's goal was never to sell water but rather to harness the collective power of consumers to take action against extreme poverty.
"The water was the first product to introduce Thankyou as a concept, but we believe it served its purpose and likely lived a little past its expiration date," Flynn said.
"We seek to have the greatest positive impact on the world and single-use bottled water is environmental enemy number one in the consumer space. It's something we really shouldn't buy.
Disrupt the donation
As part of this redesign, Thankyou has made it its mission to disrupt and change the way the public and philanthropists give to charities.
Flynn said one of the biggest hurdles facing the charitable sector is the time spent pleasing and flattering donors, rather than focusing on innovation and results.
"The level of transformation and growth that's emerging from the nonprofit sector is truly archaic compared to the for-profit sector," he said.
He said Thankyou's donation system was built out of "donor dysfunction," driven by donors' desire to support projects they can concretely see and understand.
An example of this was giving consumers Thankyou Water tracking codes to see the GPS coordinates of the projects they have funded.
But Flynn said social enterprise is now realizing that this has led organizations to address the symptoms, but not the root causes, of systemic issues, resulting in temporary fixes and broken fixes.
"If you booked heart surgery and you have a surgeon, you wouldn't tell them how to do that job and how you want it done just because you paid them," Flynn said.
Thanks new approach is called trust-based philanthropy, which involves funders stepping back and not controlling every detail of a project. Since switching to an unrestricted giving model in 2020, Thankyou has given $8 million to 16 partners worldwide.
He said that now that the company let its charity partners control the process, it could work to encourage others to follow a similar path.
"I know we're not alone in this, there are others in this space already, and there are others who are championing this idea of ​​unrestricted funding, but we think it's so important to share our experience," he said.
A work in progress
As social enterprise looks to the future, there is no shortage of projects.
In 2020, he sent out an invitation to partner with 11 of the biggest commodity companies (and some of their biggest competitors), including Proctor and Gamble, Unilever and Pangea, in a bid to overturn consumerism for good.
Flynn explained that while they knew Thankyou could not directly compete with these companies, if they offered the companies the exclusive rights to manufacture and distribute Thankyou products, then it would be a win-win situation for both parties.
"It would translate into positive business outcomes for both parties and ultimately help us achieve our mission faster," Flynn said.
"And what's interesting about most businesses and industries is that there are some who don't do anything good, but there are a lot who want to do more good. They're kind of stuck , and I guess that's where we come in.
While the initial campaign attracted a lot of attentionFlynn said at this point there were no partnership announcements to be made.
"I think we are 75 weeks into our five-week campaign, but we are committed to taking the time to find the right partnership and not rushing it.
"I know we will find the right partner though, and the day we do will be a great day."
He added that so far, Thankyou's growth has been guided by a single phrase; better before bigger.
"That can really apply to everything we do…from donations to products we bring to market, it has to get better before it gets bigger," he said.