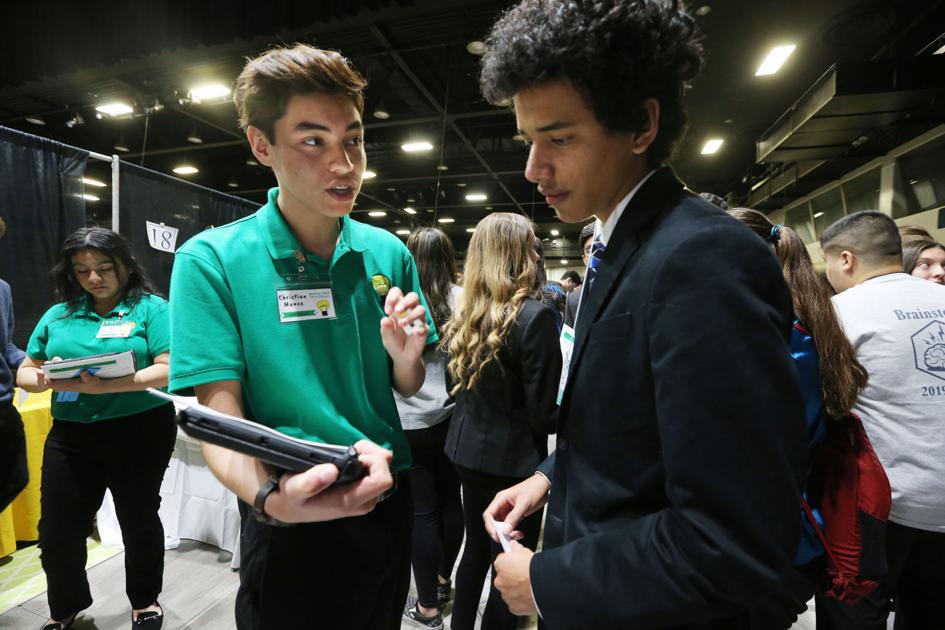 Bakersfield Students Statewide Bring Business Ideas to Life at Virtual Business Conference | New
Students attending this week's Virtual Enterprise California State conference and exhibition had the opportunity to turn their business ideas into reality.
The competition took place Wednesday and Thursday at the Mechanics Bank Convention Center, as students from across the state worked as a team through a variety of competitions. The final round of the state's business plan competition was held on Thursday, as well as the company's virtual show, where all 71 teams brought their products to life.
"The teams developed the concepts for their businesses and this (trade show) is where they can exhibit them and sell their ideas," said Brian Miller, principal of the Kern High School District.
Of the 71 teams, 11 were from the Bakersfield area. Teams from Bakersfield High School, Centennial High School and Stockdale High School finished in the top six in the business plan competition and will travel to New York in April for the international business plan competition.
A West High School team on Thursday peddled their concept of transparent backpacks, handbags and shoulder bags. The idea came from the increased need for clear bags to attend sporting events due to safety concerns, West junior Alon Murray said. The team's business plan also included a charity package that would directly benefit "low-income classrooms".
Students spent much of their time developing their business plans, with some spending months doing research in the field. A team from Canyon Springs High School in the Moreno Valley Virtual Day Spa decided to interview real masseuses to better understand the industry.
"We had to learn how they developed their spas and how their treatments really work," said Luis Trujillo, senior at Canyon Springs.
The team at La Serna High School in Whittier have announced their "Safe Escape" disaster preparedness kits to tackle different scenarios Californians may face. Their kits depicted wildfires, earthquakes, and active shooter situations.
Nathanial Estrada, senior at La Serna, had already been an entrepreneur before the competition with his own custom laces business.
"I learned a lot about collaboration through this experience which I think will really help my future business," said Estrada.
Many business concepts have been directly adapted to the lifestyles of adolescents and other young adults. The team at Westminster High School in Orange County created 'Serenity', which offers a variety of products to help achieve clear skin, healthy sleep schedules and better health.
The Pacific Palisades Palisades Charter High School team designed the concept of a solar powered GPS tracking sticker.
"Let's say I put it on the back of my phone and go out and get robbed." Horrible, isn't it? "Said junior Etai Dayani." It's okay. I go home, I log into my account and the next thing I know is I'm able to track my phone around the world.
Many business concepts were environmentally conscious and focused on sustainability. Some examples included turning recycled materials into pet toys, hemp products, and portable stations that recycled both water bottles and leftover water.
"We noticed in our class that a lot of the bottles we were recycling were half empty and we had to dump the remaining water on the sidewalk before throwing them out," said German Galvan, a student at Bloomington High School in the south of the country. California.
The concept – which finished fifth overall in the business plan competition – involved having the remaining water filtered and collected by the local water district and go directly to agriculture. Galvan explained how the virtual business class and competition has helped him broaden his horizons both socially and professionally.
"I was so nervous talking to people – like I'm shaking, it's bad – but now I'm here (talking to strangers) and it feels good," he said. "I really grew up being in this class."
Quinn Wilson can be reached at 661-395-7491.