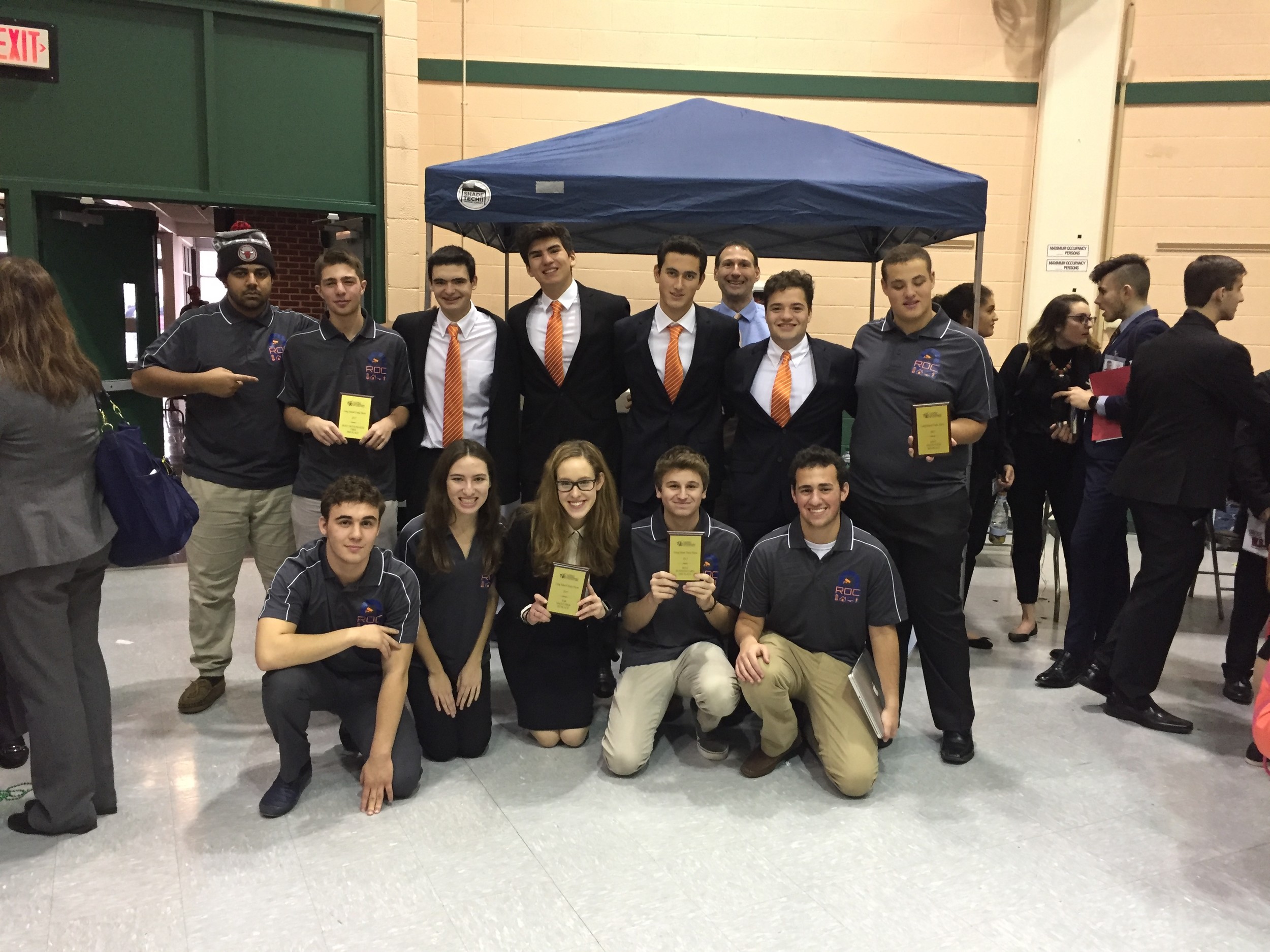 A rewarded virtual company | Herald Community Newspapers
OCR securitya virtual business that sells residential, online, commercial and personal security products, launched by Hewlett High School seniors, has won five awards and numerous honors at the Long Island Fair in Farmingdale on January 17.
The group of 12 students in the virtual business program walked away with first place for best television commercial and best sales company, second place for best business card, third place for best sales pitch and the most enthusiastic company. Hewlett High's Virtual Business Program enables students to start and manage a business while learning about human resources, accounting, technology, sales, and marketing.
"It was hectic," Harrison Poutre, chief marketing officer for ROC Security, said of his experience at the show. He was one of six students on the presentation team who gave a 10-minute presentation of ROC Security's business plan to a panel of five judges, followed by a six-minute question and answer period. The presenting team included: Shana Bernstein, Alex May, Jonathan Samuni, Elliot Breslav, Jake Zeidman and Harrison Poutre.
Poutre added that he was surprised by the amount of work it took to prepare the oral and written presentation of the business plan for the fair from start to finish. "Not just me, all six of us have come a long way in our communication skills, our presentation skills and our knowledge of different departments," he said.
The ROC in the company title refers to residential, online and commercial security products. This year the company added personal safety products. The ROC Security team includes: Alex May, CEO; Elliot Breslav, Chief Financial Officer; Harrison Beam, CMO; Jonathan Samuni, Chief Operating Officer; Jake Zeidman, president of sales; Sulaiman Hameed, vice president of sales; Shana Bernstein, vice president of human resources; Charlie Graber, Vice President Banking and Finance; Lori Matza, vice president of marketing; Max Kelstein, Chief Technology Officer; Emmanuel Furman, Chief Technology Officer; and Marc Dori, Chief Technology Officer.
Barbara McNiff, executive director of human resources for the Hewlett-Woodmere School District, said at the Jan. 18 school board meeting that students will learn if they advance to the next round of competition by the end of January. McNiff previously served as chairman of the business education department at Hewlett High School, a role now held by Rose Panarelli.
"I'll give them feedback and make suggestions, but they're the ones designing," said Ron Remick, a business professor at Hewlett High School. Virtual Business Class meets daily for two periods.
According to ROC Security's mission statement, the company works "to provide quality protection and security to our customers, whether at home, at work, online, or with our personal security products." ROC Security partners with real-world industry leaders including Lifewatch USA, Google, ADT, Stealth Technology and Simplisafe.